What Food TikTok Will Look Like In 2022
Are you hungry yet?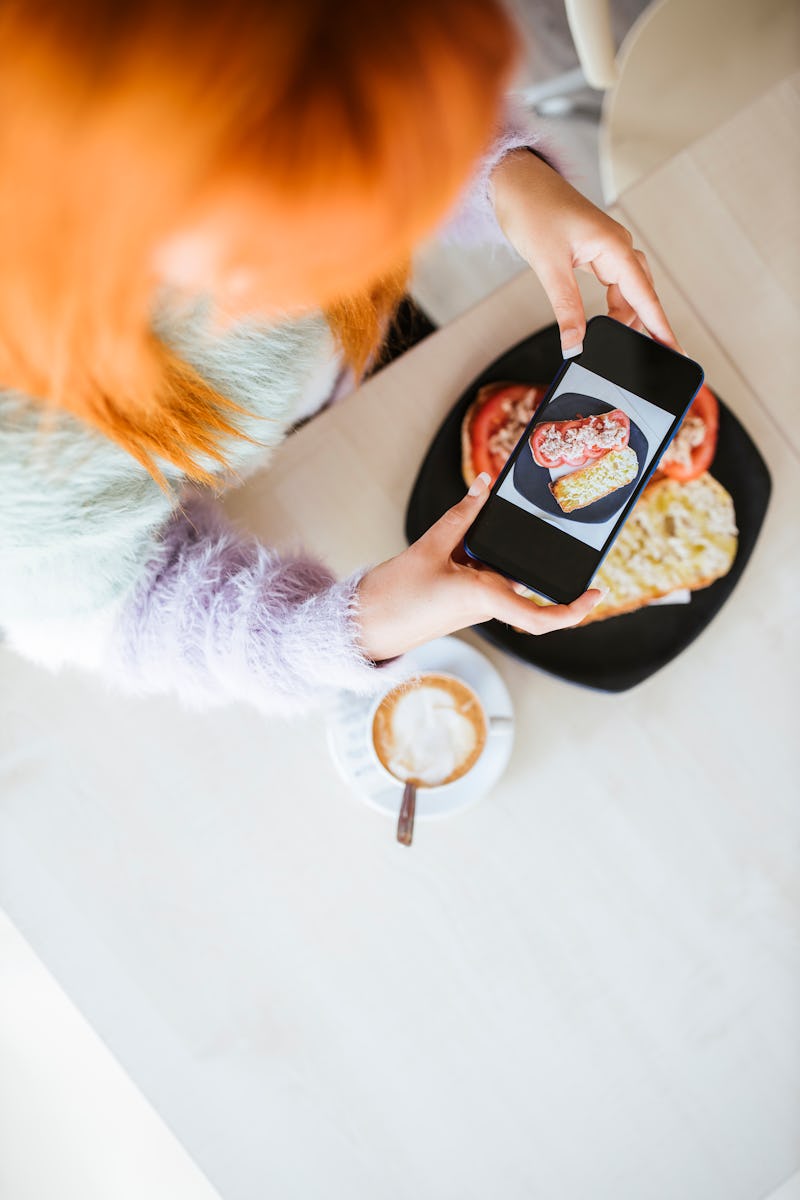 Westend61/Westend61/Getty ImagesBy Emma CareyDec. 3, 2021
Much like the spirit of "Do it for the Vine," there's a lot of things that people are willing to do to keep up with TikTok trends. Despite schadenfreude-inducing fads like the Milk Crate Challenge, most of the trends that pick up on TikTok are pretty innocuous. Wholesome, even. Among the dance trends, couples quizzes, and pass the phone challenges, one of the most heart-warming (and drool-worthy) genres of viral TikToks are food trends. Not only do they help us get off our phone for a bit while we try out the latest recipe, but they also result in, well, food. Even if your food trend video doesn't go viral, you at least end up getting nourished — which is very "Shoot for the moon, land among the stars" energy. And, by the looks of how food trends went in 2021, it appears that the sky is the limit for 2022.More like thisHere's How To Find Your Spotify WrappedBy Emma Lord and Emma CareyHere's How To Shop Black-Owned Businesses On FacebookBy Kaitlyn WyldeHere's How To Start Your Own "Add Yours" Thread On Instagram StoriesBy Emma CareyBuying Heinz's Chocolate Orange Mayo Is More Complicated Than You ThinkBy Rebecca FearnRedefine your day with the Bustle newsletter.Stay on the edge of the day's top stories guaranteed to inspire, inform, and entertain. From fashion to politics and everything in between, your Monday–Friday is upgraded.Submit
"We've gone through sourdough, banana bread, cloud bread, feta pasta, and a trillion ways to make potatoes," says food blogger Capri Lilly, who posts as @goodfoodbaddie.
There's no surefire way to know what will go viral on TikTok. Many of us post content and hope that the faceless deity that is The Algorithm looks benevolently upon us. But, as any influencer or professional content creator will tell you, there are a lot of ways to predict what will be trend-worthy on TikTok. For most viral videos, it might be using certain hashtags or sounds that have gotten traction in the past. But, for foodies, the ingredients to crafting a viral food trend might take some extra secret ingredients.
https://www.tiktok.com/embed/v2/6930343465410645254?lang=en-US
What Makes A Food Trend Go Viral On TikTok
As Shalean LaBerge, co-creator of @SoFloFoodie, a TikTok account with 2.8 million followers, tells Bustle, one of the key factors behind a trend-worthy food recipe is "the ability for it to be replicated." This is clearly a focus in foodie creators' videos, as most opt for step-by-step, one-dish tutorial videos over intricate three-course meals requiring professional equipment. "In most cases, the dish would have about one to five ingredients," says chef, DJ, and music producer Jori Mezuda, who has over 2 million followers on TikTok. From 2020's baked feta craze to 2021's salmon rice bowl, the more accessible a recipe is for amateur cooks, the more likely it is to come with loads of likes, remakes, duets, and stitches.
LaBerge adds that recipes that can be easily customized by a creator are also great for food trends. Exhibit A: Cloud bread. As the recipe went viral in 2020 for its uniquely fluffy, cotton-candy-esque take on bread, many users continued the trend by adding different food colorings and other decorative ingredients to the recipe. Exhibit B: The focaccia art that kept plenty of TikTokers busy making gardenscapes and other vegetable-adorned loaves during lockdown. Exhibit C: Mezuda's viral interpretation of the tortilla fold hack, in which she uses the hack to create a Taco Bell-inspired quesarito.
https://www.tiktok.com/embed/v2/6924339786513648902?lang=en-US
Along with simplicity, aesthetics, and customizability, food hacks for common dishes have become extremely popular on the app. Small tweaks to everyday recipes like pesto eggs, baked oats, and the folded tortilla method have blown up on the app as simple hacks to level up everyday recipes. Mezuda also notes that any recipe that "hits the sensory of sight, taste, & hearing" are sure to go viral — whether they're aesthetically appealing, yummy, and/or have a ASMR-like crunch to them.
However, even a recipe with all of these factors isn't a guarantee that it will go viral. A large part of a food trend's virality also stems from current cultural moments (see: the dalgona candy challenge from Squid Game) and other zeitgeist-y factors.
2022 Food Trend Predictions
As for 2022, it's tough to say for sure what's exactly in store for TikTok foodies. However, some growing trends of 2021 have given us an amuse-bouche of what's to come. Here are some food trend predictions we can likely expect to see in 2022.
Air Fryer, Instant Pot, & Other Convenient Cooking Recipes
"With things getting a little more back to normal," says LaBerge, "I can only think people will go back to having even less time in the kitchen." The WFH renaissance of 2020 and 2021 has already seen many quick at-home lunch recipes on the rise. As such, recipes that require short prep times and hands-off cooking methods will likely only grow more popular in 2022.
Air fryers have especially risen to the occasion in this sphere, due to their convenience and versatility. "I use mine almost every day," says Lilly of her air fryer. Mezuda also notes that air fryers provide an extra crunch from frying without compromising on health, since air fryer recipes use little to no oil.
Plant-Based Foods
Plant-based eating has grown in mainstream appeal in recent years, with many foodies creating platforms of vegan, vegetarian, and flexitarian options. Not only is eating plant-based often more sustainable, but, as TikTokers have proved, it can also be pretty dang tasty. LaBerge notes that the demand for more plant-based options has gotten many major corporations, restaurants, and business involved in the market — which she predicts will make plant-based recipes grow even more in popularity.
Similarly, Lilly predicts that "bizarre nice cream flavors" will pick up next year. Nice cream, which is a banana-based version of ice cream, is another plant-based, dairy-free swap that has become beloved by vegans and lactose intolerant folks alike. "I am sure people will get creative with the flavors," says Lilly.
Copycat Recipes
LaBerge says that she and her SoFloFoodie co-creator Stephanie Ghitis have posted videos with copycat recipes of nostalgic treats like Hostess's Little Debbies and Twinkies on TikTok that have done "exceptionally well." LaBerge predicts that copycat imitations of popular restaurant dishes and, especially, nostalgic foods will likely continue to grow in popularity.
Coffee Recipes
Much like the saying, "You'll always need a plumber," you'll always find viral coffee renditions on TikTok. The staple drink has long been a muse for re-imaginations whether it's Starbucks copycat recipes, or viral recipes like whipped coffee. Lilly hopes that we'll see more inventive takes on the beloved morning pick-me-up. "I think people are totally sleeping on the heavenly combination of fruit and coffee," says Lilly, who notes that blueberry espresso tonics have become a recent go-to.
Tech
Here's How To Do Text-To-Speech On TikTok
Storytime in comments.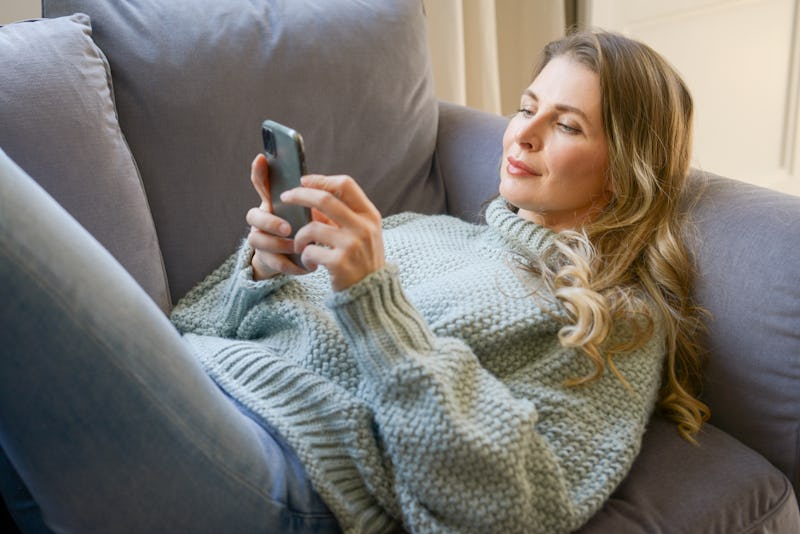 elenaleonova/E+/Getty ImagesBy Emma CareyNovember 11, 2021
TikTok has become a rising platform for creators to share their voices online. But few voices on TikTok are as recognizable as its default text-to-speech bot known as "Jessie." Having debuted in May 2021 as a revamp on the prior default voice, Jessie has become the official narrator of countless viral videos. If you've been noticing her peppy candor on videos, or the voices of her fellow preset text-to-speech bots Joey, Eddie, Chris, Alex, and Scream, you might be wondering how to use the TikTok text-to-speech feature.
One of the greatest benefits of TikTok's text-to-speech is that it enhances the accessibility of the app for people with visual impairments, so that they can watch TikToks without needing to read any text on the screen. It has already become somewhat standard for creators to provide closed captioning on their videos for deaf, Deaf, or hard of hearing users, which has since been facilitated by TikTok's auto-captioning feature. So, using text-to-speech can go hand-in-hand with using closed captions, by simply turning on the text-to-speech feature when you offer closed captions on a video. It's an easy way of making TikTok an easier place for everyone to enjoy.
If you've been wanting to implement the feature on your own videos, here's a step-by-step guide on how to use TikTok's text-to-speech feature.
https://www.tiktok.com/embed/v2/6906384084784663813?lang=en-US
How To Use TikTok's Text-to-Speech Feature
To use text-to-speech on your next TikTok video, shoot the TikTok as you normally would on the app by hitting the plus sign in the middle of your bottom tab on the app. Choose between 15 seconds, 30 seconds, or 3 minutes as your time limit on the video, then shoot the video as you normally would. Once you're done shooting, click the red check mark in the bottom right of your screen to edit your footage.
Next, add whatever text you're planning to use on your TikTok. To do this, click the "Aa" icon on the bottom of your screen, and type whatever message you wish. You can also format the appearance of your text, where it will appear on the screen, and at what point of the video it will appear with "Set duration." (While you can add closed captions manually or automatically on TikTok, it's not ideal to add text-to-speech to any captions that you're already saying out loud in the video – as the text-to-speech voice will just talk over yours.)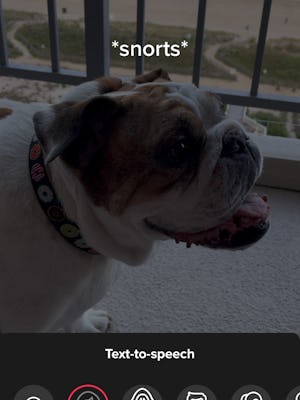 Once you have your text written out, you can add text-to-speech in one of two ways. While you're still editing your text, you can select text-to-speech with the third icon from the left that looks like a talking head. If you've already added your text to the video, you can choose to add text-to-speech by clicking on the text and selecting the talking head icon.
From here, you'll be prompted to choose from TikTok's preset selection of voices. Jessie is the default voice with an American accent, and Joey and Alex also speak in American accents. Eddie and Chris speak in Australian accents, and Scream speaks like Ghostface from Scream. Choose your favorite voice, and, voila. Your text will be immediately read by the TikTok text-to-speech bot. (Though, there's no guarantee that the bot will know how to pronounce all of your text — as TikTokers have found with some hilarious faux pas.)
Social Media
Here's How To Use Text-To-Speech & Voice Effects On Instagram Reels
The features speak for themselves.
By Kaitlyn WyldeNovember 15, 2021
You still don't have the courage to leave a voicemail on your best friend's answering machine, so the chances of you using your own voice to narrate a video on social media are, well, non-existent. But if TikTok has shown us anything, it's that a story time can sometimes be even more impactful when a cheeky automated voice recounts it. Reels users will likely get a lot of mileage out of a new text-to-speech and voice effect update on Instagram Reels that debuted November 12.
The text-to-speech feature allows you to use an automated voice to share your captions on your behalf, without ever opening your mouth. The new voice effect options for Instagram Reels bring your own recording to life, covering up your voice and replacing it with a special effect that makes it more interesting.
Here's how to zhuzh up your Reels with animated voiceovers that don't require you to overcome with stage fright.
How To Use Text-To-Speech On Instagram Reels
Start a Reel the way you normally would. Tap the Reels icon in the center of the lower menu bar, then the camera button on the upper right corner. Record a video or upload one from your camera roll. Tap the text tool, and type out what you'd like the voiceover tool to read. Tap done, and then tap the three little dots on the text bubble to open up the two voice options. Tape done to seal the deal.https://www.instagram.com/p/CWHL67OPk_H/embed/captioned/?cr=1&wp=658&rd=https%3A%2F%2Fwww.bustle.com&rp=%2Flife%2Ftext-to-speech-voice-effects-instagram-reels#%7B%22ci%22%3A0%2C%22os%22%3A243785.40000000037%2C%22ls%22%3A243728.6000000001%2C%22le%22%3A243773.40000000037%7D
Other than not wanting to hear or immortalize your own voice, this feature allows you to quickly and discretely tell a story. If you're not in an environment where you can record sound clearly, leaning on this automated feature takes the pressure off of recording the perfect audio.
How To Use Instagram Reels Voice Effects
You were brave enough to record your own voice, but the playback is making you cringe. To cover up your earnest attempt at speaking directly to your followers with a more playful effort, tap the music note after filming or uploading your video to open up audio controls. From there, you'll be able to pick from helium, giant, vocalist, announcer, and robot effects — you can test them out in preview mode. Tap done to share.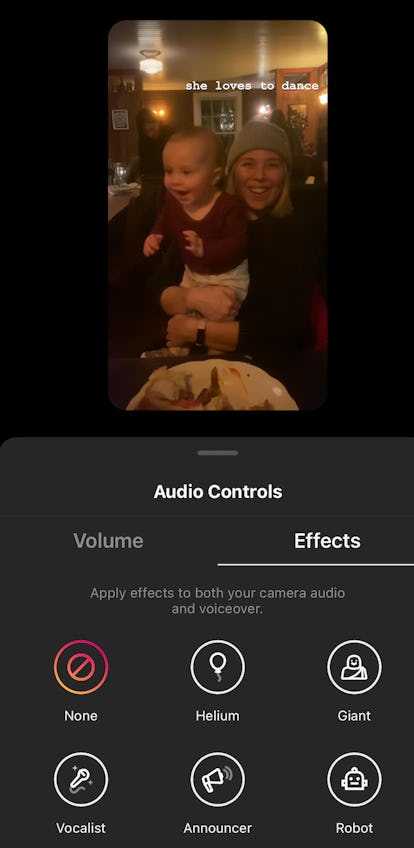 Why Don't I Have Text-To-Speech Or Voice Effects On Reels?
If you're unable to find either of these features, fret not. Per Instagram, the roll out of text-to-speech or voice effects on Reels is ongoing. While the feature launched on Nov. 12, Instagram doesn't make the update available to everyone all at once. Make sure you're using the latest version of the app (and if you're not, download it). To see if you've gotten text-to-speech or voice effects on Reels, just keep trying to use them by following the above instructions. Otherwise, be patient, and know your story time is coming soon.