Geko neuromuscular stimulator that can prevent blood clots gets FDA market approval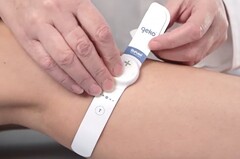 The geko device from Firstkind Ltd has received FDA clearance and can now go to market. The electrical neuromuscular stimulator can be easily attached to the wearer's leg, just below the knee, and it will stimulate blood flow to help prevent dangerous issues such as deep vein thrombosis (DVT) caused by chronic venous insufficiency (CVI).Daniel R Deakin, 12/21/2021 🇮🇹🇪🇸…BiotechLonger RAY5 laser engraver review: Smart-laser with Wi-Fi74% Samsung Galaxy A03s smartphone review: Cheap phone, good call quality78% Xiaomi Redmi Note 8 2021 review: Can this questionable smartphone update be recommended?88% Xiaomi Pad 5 Tablet review – Android-Alternative to the cheapest iPadNext Page ⟩
Firstkind, which is a subsidiary of the British medical company Sky Medical, has revealed that is has gained FDA 510(k) clearance for its geko device. The geko is a non-invasive smartwatch-like device that is worn by the user just below the knee. Impulses from the medical device, created by OnPulse Technology, encourage blood flow around the leg that it is worn on, with the product site claiming it "emulates the process normally achieved by walking (up to 60%)".
Obviously, the geko electrical neuromuscular stimulator has been designed for patients who are immobile for sufficient periods for venous thrombosis (blood clots) to become a real concern. Those who are troubled by venous insufficiency or ischemia (oxygen deficiency to extremities caused by blood supply restriction) would benefit mostly from the geko device, especially as it is so easy to fit, taking around 60 seconds with minimal assistance.
Studies in regard to chronic venous insufficiency (CVI) have stated that 150,000 new patients each year are diagnosed with the medical condition, requiring a whopping US$500 million in care costs. The geko device is disposable (use up to 24 hours) and comes in pairs, so that the patient can have one applied to each leg. The potentially life-saving stimulator is expensive, at US$500 for a 5-pack of the geko circulation support device, and a prescription from a doctor is required during the purchasing process.
Buy a Contour Legacy support pillow on Amazonhttps://47f76d32366a73597bfe6b17b58275bb.safeframe.googlesyndication.com/safeframe/1-0-38/html/container.html