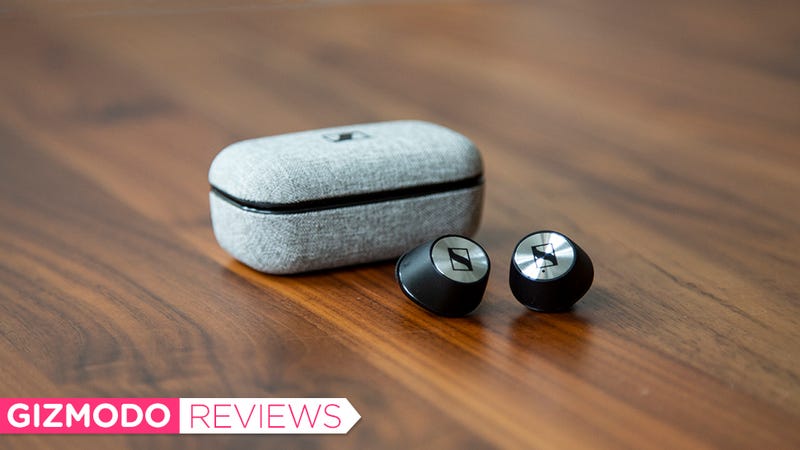 I walked into this review hoping to be disappointed. Ever since I first reviewed them four years ago, the over-ear Sennheiser Momentum Wireless has been the model to beat in terms of supreme sound quality in the world of Bluetooth headphones. So when the company announced that it would be releasing truly wireless earbuds with the Momentum name, I almost wanted them to suck. It wouldn't be fair for Sennheiser to dominate the earbud business too! But alas, the Momentum True Wireless earbuds are awesome.
We've reached a new era for truly wireless earbuds in some ways. Just a couple years ago, these gadgets were so bulky they'd fall out of your ears. They had terrible battery life. They also sounded like garbage, so much so that we avoided reviewing a lot of the first models to market. They were bad!
But recently and incrementally, truly wireless earbuds have been getting better and better. Size and fit were the first things to improve with models like the Bose SoundSport Freebecoming comfortable enough for regular use. Battery life followed soon thereafter with the Jabra Elite 65t's managing an impressive five hours on a single charge. And then, a few months ago, Master & Dynamic came along with its fancy MW07 earbuds and their exceptionally good audio quality. This was a big deal to me because making tiny earbuds sound really great is a tough task.
What's mind-blowing about the $300 Sennheiser Momentum True Wireless earbuds is that they tick all of those boxes. What's more is the fact that they surpass every other truly wireless earbud we've tested in that most difficult category: sound quality. Despite being a fraction of the size, the Momentum True Wireless manage to deliver that signature Sennheiser sound—which is a silly-sounding phrase, but I'm not sure how else to say it. The earbuds actually sound a lot like the $400 Sennheiser Momentum Wireless over-ear headphones. Except they fit in your pocket. (The Momentum True Wireless are currently available for pre-order, and Sennhesier says they'll be generally available tomorrow.)
Design must have something to do with it. The body of the Momentum True Wireless earbuds is noticeably beefy, the size of a small chestnut. On the outside of each bud there's a touch-sensitive area for controls (play, pause, skip track, Siri, and so on), and then on the other side is the bud itself, which contains a 7-millimeter driver. There are also microphones on the earbuds that handle audio for phone calls as well as some noise canceling.
It's worth highlighting here that these aren't noise-canceling headphones in the same way that, say, the Sony 1000X series are noise-canceling headphones. Rather than block out the outside world like those ear muff-style can, the Momentum True Wireless seem to use more basic noise-canceling technology to improve the listening experience. You'll still hear a muffled version of your surroundings, and you can flip the earbuds into "transparent mode" in an accompanying app so that you can better hear what's happening around you without removing the earbuds. The app also has an extremely simple equalizer feature and a very handy home screen that shows you the battery levels in each earbud.
Speaking of handy, the Momentum Truly Wireless connect to devices impressively well. It happens as soon as you take them out of the case, and the voice of an enthusiastic British woman announces it—"Connected!"—so there's no fumbling around in settings to figure out where your music will start playing. I'd compare the experience to Apple AirPods in terms of pure convenience, although the Sennheiser earbuds sound much, much better.
When all of these factors come together, you've got a set of dependably connected earbuds that pump well-tuned audio straight into your brain while blocking out adjacent noise. It's the tuning I like so much about the Momentum True Wireless, too. Like other Sennheiser headphones, these earbuds focus on accuracy rather than pumping up the bass for the illusion of big sound in a small package or cranking the treble for an artificially bright effect. Cello music is a great way to measure this. If you can hear the warm rumble of low bass notes as cleanly as the chirp of the highest note in Bach's "Cello Suite No.1 in G Major," you've some nicely tuned headphones. And let me tell you, that beautiful piece sounds stunning through the Momentum True Wireless headphones.
But beyond fantastic fidelity, the Sennheiser earbuds impressed me with their range. The sharp guitar notes in "Barcelona Nights" by Ottmar Leibert blend delightfully with the woody percussion. You can clearly hear that same airiness in the beats on "Guatemala" by Rae Sremmurd and a similarly delicate treatment of the strings in "Should Have Known Better" by Sufjan Stevens. The true test of the earbuds' range came from Mariah Carey. On "Caution," the title track of the vocalist's latest album, you can hear Mariah's whistle tones perfectly balanced over a gritty bass track that's, thankfully, not so bass-y that it drowns out the other sounds.
The only other truly wireless earbuds that really compete with the Momentum True Wireless earbuds in terms of sound quality are the Master & Dynamic MW07. Also priced at $300, these more fashion-forward earbuds have bigger 10-millimeter drivers, and the bass sounds a bit more jacked up, which means you lose some detail on certain songs.
The MW07 design also means that the earbuds perch on your ear for a looser fit. I like how the Sennheisers fill up my concha, that little cavity between the outer ear and the ear canal. However, it's worth pointing out that the somewhat bulky body of the earbud might not work well for people with small ears. Gizmodo's resident small ear-haver, senior reviews editor Alex Cranz, tried out the Momentum True Wireless, and the earbuds just fell out of her ear. So, if possible, you might want to try on the Sennheiser buds before buying them.
Since we're comparing earbuds, it's also worth highlighting some usability issues with the Momentum True Wireless. The earbuds have no buttons. The touch-sensitive silver surface on the earbuds is the only way you can control them, and it takes a little getting used to. At first, I found myself accidentally beckoning Siri every time I took them out of my ears but eventually learned to grab them from the sides. This is a problem that I don't have, for instance, with the $170 Jabra Elite 65t, which have three buttons as well as a handy little microphone arm that makes the earbuds easy to adjust when they're in my head. The round Sennheisers just take a little more finesse to get them in just right.
So the Momentum True Wireless earbuds aren't necessarily made for everyone. If you're looking for something to wear to the gym, you might not like the Sennheiser earbuds because they're only IPX4 rated, which means they're splash resistant. (Apple AirPods are neither waterproof or water resistant, for what it's worth.) If you're looking for something with extraordinary battery life, the Momentums get four hours on a single charge, which isn't the worst battery life (the latest pair of Sony truly wireless earbuds get just three hours) but it's also not the best (the Jabras get five hours).