The Newest $25 Raspberry Pi Is the End of an Era
The legendary "classic" Raspberry Pi has reached the end of the road.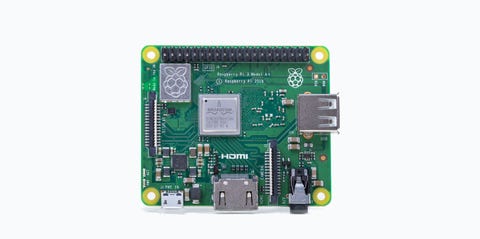 The Raspberry Pi, the original teeny-tiny $35 computer, has a new flavor. Announced today, the Raspberry Pi 3 Model A+ has an unwieldy name and a specific use-case. A smaller, more budget-friendly version of the Pi 3 Model B+, its smaller size, lower $25 price point, and 512 MB of RAM make it fit for DIY home automation, but perhaps, most notably, it's likely to be the last of its kind and the end of the Raspberry Pi as we've come to know it.
Since the announcement of the first Raspberry Pi in 2012, the tiny computer has evolved in a few different ways at once. There have been advancing generations of Pis (Raspberry Pi 1, 2, and 3, and their "plus" variants), which represent improvements in processing power, and differing Model numbers (A, B, and Zero) which represent different design choices on what to include on the vanishingly small board. Model B's, for instance, have historically had bulky Ethernet ports for physical internet connections. Model A's don't, but they hang onto the full-size USB port that the Zero model dispenses with entirely to go after a tiny size and a tiny price.
What the Raspberry Pi 3 Model A+ represents is a rounding out of the family, a third-generation Model A had been missing up until now, it also represents a completion of the family. This isn't just inference; the folks at Raspberry Pi explicitly say will be the end of the "Classic" Pi as we know it:
In some ways this is rather a poignant product for us. Back in March, we explained that the 3+ platform is the final iteration of the "classic" Raspberry Pi: whatever we do next will of necessity be less of an evolution, because it will need new core silicon, on a new process node, with new memory technology. So 3A+ is about closing things out in style, answering one of our most frequent customer requests, and clearing the decks so we can start to think seriously about what comes next.
And it will doubtless be interesting to see what Raspberry Pi has in store. Since the release of the original board in 2012, the ecosystem of Pi-like boards has exploded, with various competitors and alternatives attempting to compete on price, power, and size, to limited degrees of success. Some version of the original Pi—probably the Raspberry Pi 3 Model B+, the most advanced version of the initial form factor—is likely to remain in production well into the future, alongside the new freakishly small and cheap Zero models. But something new is on the horizon. In the meantime, the classic Pi has served, and continues to serve, us all very well.