Artist Steve Messam is celebrating the North of England's historic role in railway innovation with 16 Raspberry Pi–controlled steam engine whistles around the city of Newcastle.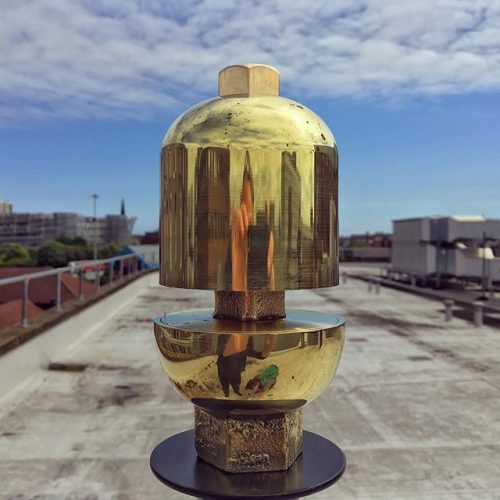 The Great Exhibition of the North
The Great Exhibition of the North is a summer-long celebration of the pioneering spirit of the North of England. Running over 80 days, the event will feature live performances, exhibitions, artworks, and displays of innovation from 22 June – 9 September 2018.
As part of the celebration, artist Steve Messam is introducing his Whistle project in Newcastle in honour of the North's part in the innovation of the railway. "Listen out for the evocative sound of steam engine whistles once again echoing across the city of Newcastle," states the project page of The Great Exhibition of the North. "The sound installation is designed to recall the role of the North in engineering and the invention of the railway, sparking memories and forging links between past and present."
Whistle
Steve first developed the idea for Whistle as a pitch to the Loch Lomond and The Trossachs National Park back in 2014. He originally wanted to install a line of whistles along the 22-mile course of the old railway line between Callander and Glen Dochart, with whistles sounding off in one-second intervals, recreating the sound of the old line.
Below is a very nice roundup of the initial 2-mile test run, including the original whistle designs.
Fast forward to 2018 and The Great Exhibition of the North, where Steve is surrounding the city of Newcastle with 16 newly casted brass whistles. The new installation follows the old city wall of Newcastle, with each whistle sounding at exactly 1pm on every day of the exhibition.
The William Lane Foundry cast the 16 whistles to match a design by William Armstrong based on measurements of an original whistle held by the North East Locomotive Preservation Group. The Newcastle-based software house Nebula Labs created all the control systems.
Each whistle is equipped with a Raspberry Pi that controls the release of compressed air through the brass to replicate the sound of a steam whistle.
Each unit is powered by solar panels and registers the time from the National Physical Laboratory's atomic clock in London to ensure accurate timings. As a fallback in case of WiFi issues, the whistles are also linked to the clock set on the Raspberry Pi itself.
For more information on Whistle, check out this wonderful article by the Teesdale Mercury. You can also find out more about Steve Messam projects, such as his paper bridge that can support the weight of a Land Rover, on his website or by following his Twitter account.
And if you're in Newcastle while The Great Exhibition of the North is running and you spot one of the 16 whistles, be sure to tag us in your pics and videos on social media so we can see it in action.