Genetics Start-Up Wants to Sequence People's Genomes for Free
The new service lets consumers contribute to medical research, but still poses privacy concerns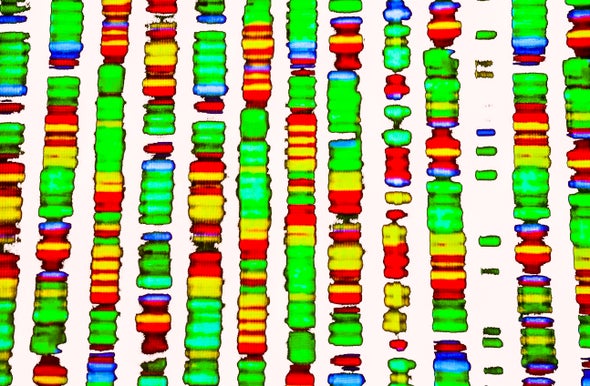 The quality of gene sequencing has improved so much and its price has fallen so far that a start-up now says it can offer the service for free.
Nebula Genomics aims to sequence a customer's entire genome, according to the company's chief scientific officer Dennis Grishin. In contrast, current commercial services offer genotyping, which focuses on the differences between the person's genome and a reference one. The new service, which was officially made available Thursday, will provide 2,000 times more data than existing services, but will still not be accurate enough to serve as a basis for medical advice, he says.
Grishin says Nebula is trying to address the two main concerns people still have about getting their genes sequenced: cost and privacy. Researchers will pay for the sequencing in exchange for participants agreeing to provide their genomic and medical data. The participants can then share their sequences with other researchers on a case by case basis, rather than giving a blanket approval as existing consumer genetics tests typically do. Nebula's service uses blockchain, a ledger system that stores information in a distributed rather than centralized network, to ensure data security. Anyone who wants their genome sequenced but does not wish to participate in the research can do so for $99.
Higher quality data will come soon, Grishin says, in the form of a $1,000 test that will also be offered for free in exchange for research participation. Rather than pursuing U.S. Food and Drug Administration approval for a test that can offer medical advice, he says he would like to see doctors prescribe the sequencing service to address medical questions such as whether a patient is genetically predisposed to certain diseases.
The service will be particularly appealing to people who want to benefit science as well as themselves, says Laura Hercher, a professor of human genetics at Sarah Lawrence College in New York State who has no connection to Nebula Genomics. "If you're interested in helping genomic research, this whole picture makes sense. You can be helpful at no cost."
Right now, even the $1,000 test will not offer much more insight than the products available today from commercial services such as 23andMe, which provides information about a few key health-related genes. Nor will it offer people the possibility of reconnecting with family members, as Ancestry.com does. But Grishin predicts that over time, as scientists continue to learn about the function of genes and their role in disease, participants will get more useful information. Neither Ancestry nor 23andMe offered comment about Nebula or its service.
Nebula was co-founded in 2017 by Grishin, Harvard Medical School geneticist George Church and entrepreneur Kamal Obbad, who is currently its CEO. The company, which is based in both San Francisco and Boston, announced earlier this year it had raised $4.3 million to launch the commercial service.
Participants would initially provide some basic medical information such as their family's history of disease. Then every time researchers want someone with that family history, they can reach out to all participants who fit their needs. The database will get more useful to researchers as more people have their genomes sequenced. "If you're a researcher and need a control group of 10,000 people who don't have asthma, it's hard to fish that out," Hercher says. "This is a good way to do it." Most data sets today have either medical information or genetic sequencing, not both, she notes.
With the $99 analysis, each DNA letter will be correctly sequenced 99.8 percent of the time, Grishin says. That still means there will be thousands of errors—which is why he says it should not be used for medical decision-making. Those errors might not matter if they indicate someone's ancestry was from Finland instead of Norway but it would make a big difference if they incorrectly led someone to believe they were destined to get Alzheimer's.
With the $1,000 analysis, Grishin says, each letter would be checked 30 times, greatly reducing the error rate and making the data more useful both for research and for understanding medical risk. Hercher says she hopes the company explains the limitations of the $99 analysis very clearly. "If you're giving it to people [lacking] any expertise, you should be damn clear about how seriously they should take any results" they get from the sequencing, she says.
The service also promises to be fully transparent. Nebula says its financial relationships will be explicit, and the power will be in the hands of the customer rather than the company. Because the service uses blockchain, no intermediary is needed between the researchers and individuals, who could provide their consent virtually instantaneously. This could potentially save researchers lots of time by avoiding the need to negotiate multiple contracts with companies or institutions that own large data sets, Grishin says.
Privacy is likely to remain an issue for some people, though. Bioethicist Henry Greely, director of the Center for Law and the Biosciences at Stanford University, says via e-mail the company's approach will not solve all of the potential privacy concerns. Using blockchain should improve data encryption, he says, "but that's only one of the ways in which genomic privacy may be breached." It will still be theoretically possible to re-identify people from their genetic code, he notes, and law enforcement could still issue search warrants or subpoena the data. Privacy advocates were very concerned earlier this year when genetic information was used to track down the so-called Golden State Killer in Washington State. In that case the killer's relatives had voluntarily made their genetic information publicly available without knowing they were distantly related to an accused killer or that their data would be used to track him down.
In addition, Greely warns, most of the information that participants receive, especially for the $100 sequence, will be valueless—or even costly, if it causes confusion. "Most people won't want or need this," he says. "Some enthusiasts will like it."