'Should we even consider this?' WHO starts work on gene editing ethics
Announcement follows claim by Chinese scientist to have altered DNA of twins to prevent HIV infection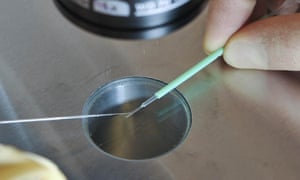 The World Health Organization is creating a panel to study the implications of gene editing after a Chinese scientist controversially claimed to have created the world's first genetically edited babies.
"It cannot just be done without clear guidelines," Tedros Adhanom Ghebreyesus, the head of the UN health agency, said in Geneva.
The organisation was gathering experts to discuss rules and guidelines on "ethical and social safety issues", added Tedros, a former Ethiopian health minister.
Tedros made the comments after a medical trial, which was led by Chinese scientist He Jiankui, claimed to have successfully altered the DNA of twin girls, whose father is HIV-positive, to prevent them from contracting the virus.
His experiment has prompted widespread condemnation from the scientific community in China and abroad, as well as a backlash from the Chinese government.
Tedros said the World Health Organization (WHO) was in the process of setting up the panel. He did not however characterise the initiative as a direct response to the Chinese trial.
He also declined to speculate on whether WHO could envision a future where some form of gene editing could offer public health benefits. The panel will start with "a clean sheet," Tedros said. "They can start by asking 'should we even consider this?'"
The group will include academics as well as WHO and government medical experts, he added. "We have to be very, very careful … We should not go into gene editing without understanding the unintended consequences."
Last week, the Chinese ministry of science and technology stressed its opposition to the gene-editing baby experiment, and demanded a halt to the "scientific activities of relevant personnel".
The Chinese scientist's claims were "shocking and unacceptable" and breached "the bottom line of morality and ethics that the academic community adheres to", vice-minister Xu Nanping told state broadcaster CCTV, warning that it may have broken the law.