The Apple Watch Series 3 Edition Reviewed
We are about to begin a new chapter for smartwatches.
Originally published by Benjamin Clymer on Hodinkee.
In the fall of 2014, I was one of the very few watch industry insiders to be invited to the launch of the first Apple Watch. The ensuing story (which you can read here), is still one of the most read stories I've ever written on HODINKEE, and it is in fact the most discussed here and elsewhere. Three years on, the Apple Watch remains one of the most controversial and hotly-debated objects not only in watches – where some view it as a simple non-issue, and still others view it as pure evil taking the form of 42mm of silicon and aluminum – but also in consumer technology because it has, by Apple's admittedly skewed matrices (which will happen when you're the largest company in the history of the world), not been the overwhelming success to which the firm is accustomed.
But if you think the Apple Watch has been a flop, you're kidding yourself. Even more so if you think it hasn't impacted the traditional watch space – read my esteemed colleague Joe Thompson's look at what Apple has done to the American-held, multi-billion-dollar company that is Fossil if you don't believe me. Though luxury watch consumers are unlikely to admit it, the Apple Watch has changed things. Last week, we saw the introduction of the Apple Watch Series 3 and Series 3 Edition (housed completely in ceramic) – and today, after spending a full week with the latter, I'm here to give you my full thoughts.
What's New in Apple Watch Series 3?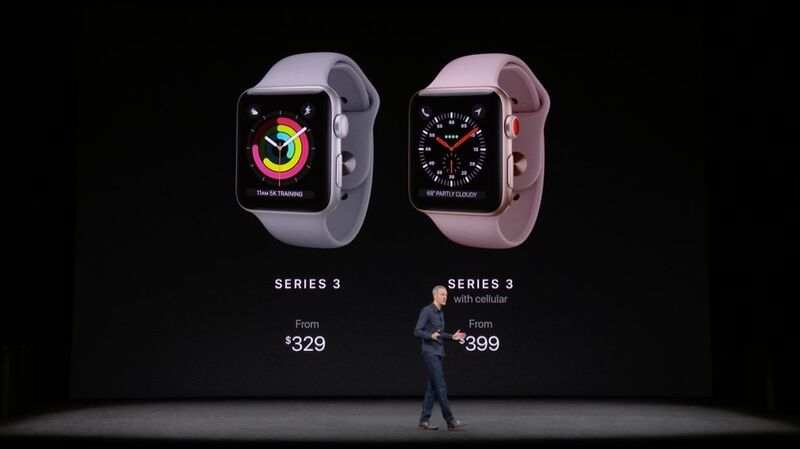 The technical specs of Series 3 were published here on Hodinkee the minute they were announced, but I'll summarize them quickly for you. Series 3 has a barometric altimeter that measures, for the first time, relative elevation. That's helpful for climbing stairs, skiing and snowboarding, hiking, etc. It has a new W2 wireless chip that was developed by, you guessed it, Apple, and offers better performance using less power. There is an entirely new processor within Series 3 that makes it up to 70% faster than Series 2. This is huge, and if you haven't tried an Apple Watch since the first generation, you'll be shocked by the differences in speed. Finally, the biggest change to Apple Watch Series 3 is that now, for the first time, it features cellular capabilities as a stand-alone device, meaning it can operate without your iPhone being within Bluetooth range. Doesn't sound like a big deal? I didn't think it was either, until I tried it.
What's Changed Since 2014? A Lot, and yet Nothing at All
In thinking about this new Apple Watch and what it might mean to Apple, the traditional watch industry, and to us as consumers, let's look back to 2014 to see how much has changed since then. We knew Apple Watch was coming, and yet it seemed to take the industry by surprise. The usual suspects were dismissive, disrespectful even. And then we saw many of them follow in Apple's footsteps by creating their own versions of a smartwatch. Fossil purchased Misfit for $260 million. IWC announced (but never launched) a fitness tracker that could attach to your watch strap. Montblanc released a smartwatch that costs around $1,000. Louis Vuitton released one for over $2,500.  Don't worry though, because that includes an LV-branded charging case. Now that is luxury.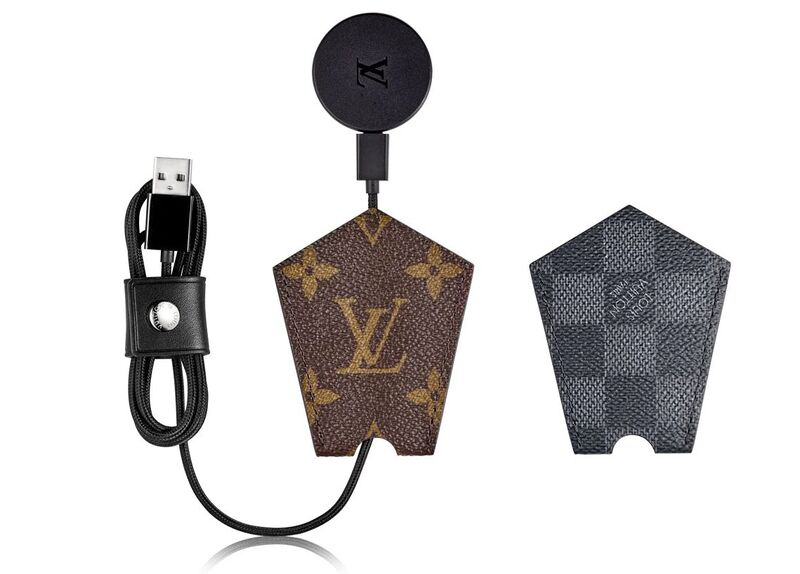 And then there's TAG Heuer, who was among the first, and certainly the most successful, at tackling Apple on their own terms by producing the so-called Connected Watch at $1,500 that used technology found in several other watches that could be had for a literal fraction of the price TAG was asking. But you know what? It worked. And as it stands right now, the Connected Watch is in fact the number one selling watch by volume for TAG Heuer in the United States. Bet you wouldn't have guessed that.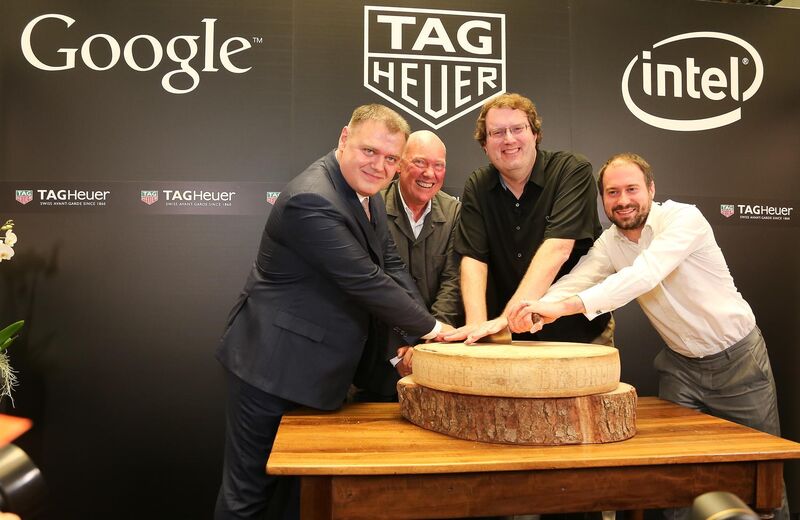 It's shocking, I know, but as LVMH honcho Jean-Claude Biver told us in March 2015, his hope is that the connected watch will get people into watches in general, and with a price point of $1,500, it's actually the least expensive item in the TAG Heuer collection. Starting to make sense?
So again, the Swiss were dismissive of the Apple Watch because it's not even a watch, right? How could someone who appreciates a fine timepiece ever want a disposable digital device on their wrist?
Still, we now have smartwatches from two of the three big luxury watch groups, and likely more to come. And that's before we actually talk about sales numbers of Apple versus the traditional players or the fact that all of theirs use what is the equivalent of an off-the-shelf caliber in Android OS while Apple's is, to borrow a term they'll understand, completely in-house. Ironic, really.
The Blind Leading the Blind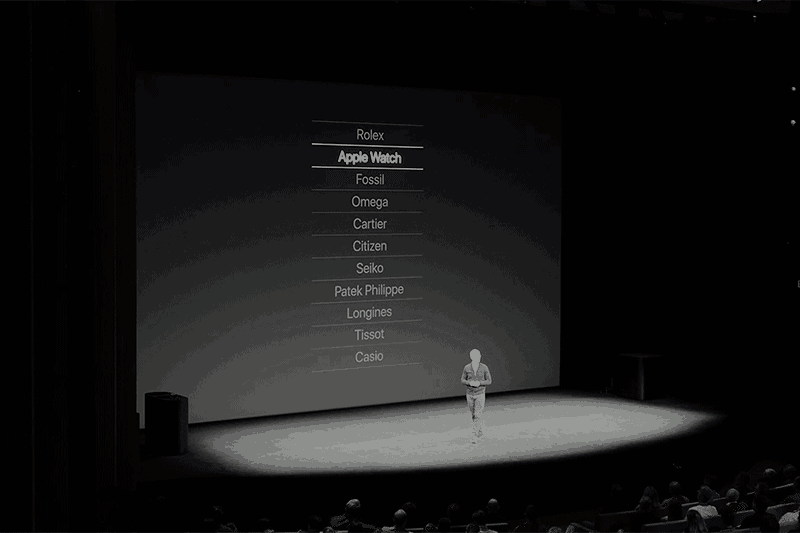 One of the most amusing things about doing what I do for a living – writing about and working with mechanical watches – is the reaction that other watch guys expect me, or really any other reasonable watch person, to have about the Apple Watch. They think we should hate it. I don't hate the Apple Watch, nor should anyone else. If anything, the build quality versus price ratio on the Apple Watch is so embarrassing for the Swiss that I genuinely think it will push mechanical watchmakers to be better. And I actually think the Apple Watch has gotten people talking about watches again. Does the Apple watch give me the same emotional satisfaction as my Vacheron Constantin, Rolex, or Omega? Certainly not, but that's not the point. And I think we all know that – so the vitriol that spews from the souls of so many mechanical watch lovers is misguided, whether from an industry employee or from a consumer.
These feelings towards the Apple Watch and smartwatches in general reminds me of a period in my life – a time not so long ago – when "blog" was a four letter word, literally and figuratively, to the entire country of Switzerland. The idea that the World Wide Web was a tool through which some could communicate about luxury products was simply unthinkable – and if anyone did, then for sure no one would ever make a purchasing decision based on what a blogger might say, because nobody with any real money would be online! It's this same attitude that caused the Swiss to lose during the Quartz Crisis. And to be clear, they did – 97% of watches on this planet today are quartz (hat-tip Joe Thompson!).
When I see comments on our site and elsewhere saying that Apple will never dethrone Rolex as a watchmaker, I know they are surely right, when thinking about a timeless, mechanical watch that will last generations. But Apple has, by their own account, already sold more watches than Rolex by revenue in the past 12 months, and that means they've likely sold more in "watches" than pretty much everyone else, too. Yeah, it's a little silly to compare Apple to Rolex, but at the same time, how can you ignore a company that according to the widely read Ventrobel report, shipped 11.5 million smartwatches ($4.5 billion) in 2015. And that was 2015, before the Series 2 and well before the brand new Series 3 Watch. Oh, and about that slide at the top of the section and the one that ruffled more than a few feathers when Apple presented it during their keynote – Apple is comparing themselves to Rolex, Omega, and Cartier not in unit sales, where it surely would outpace these luxury players just by virtue of a far less expensive price point, but by revenue. That means more people are spending more money on Apple Watches than Rolex, Omega, or Cartier watches. Think about that.
Again, the Apple Watch isn't trying to eat the mechanical watch industry's lunch at all, and it certainly isn't looking to replace the mechanical watch as the emotional talisman that its become over the past few decades. The Apple Watch, whatever the series, is an entirely different thing. It's electronic, with a lifecycle that we've all come to know and expect from Apple and all other electronics companies. We replace our phones every few years, and the Apple Watch is a peripheral device to the phone, so it makes sense that we would see them roll out semi-regularly. Now, that's not to say some don't view the Apple Watch as direct competition to some watches, but like I said all the way back in 2014, high-end watches are safe, for now.
"Will anyone be trading in their Lange Double-Split for an Apple Watch? Certainly not. But, will the average Lange owner buy an Apple Watch, wear it on the weekends, and then, after a great workout with it, decide to leave it on next for a vacation to the beach, and then maybe on casual Friday to the office? It's possible. Apple products have a way of making someone not want to live without them…So while certainly not direct competition for haute horology watchmaking right now, the Apple Watch is absolutely competition for the real estate of the wrist, and years down the road, it could spell trouble for traditional watches even at a high level. When you realize you just don't need something anymore, there is little desire to buy another. At the lower end, I believe the Apple Watch is a serious threat to those less faithful wearers of analog watches."

– Benjamin Clymer, September 2014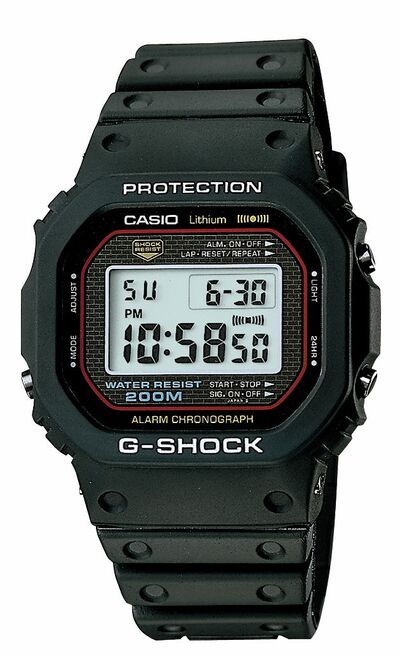 It turns out I was right. Swiss exports for watches below $1,000 have been the hardest hit, and as we published on this very site yesterday, one of the largest producers of entry level fashion watches in the world, the Fossil Group, has taken a beating since the day the Apple Watch was introduced.
One quote from Fossil CEO Kosta Kartsosis that I think is particularly poignant from this reporting is: "the number one trend in fashion is technology." And I think that is true whether we're looking at $300 Fossils, Apple Watches, or something far more expensive. Granted, mechanical watches are something more like anti-technology, but we mustn't forget, the complicated pocket watch was the precursor to the smartwatch in many ways.
Something else to consider: The Casio G-Shock just celebrated its 100 millionth watch sold, making it, according to Casio, the most successful watch ever created. Guess how long the G-Shock has been around? Thirty-five years. And the Apple Watch sold 11.5 million units in 2015 alone, then demand reportedly dropped considerably in 2016 before climbing back 50% year-over-year into 2017. Looks like Casio won't be holding on to that title for long.
A Week on the Wrist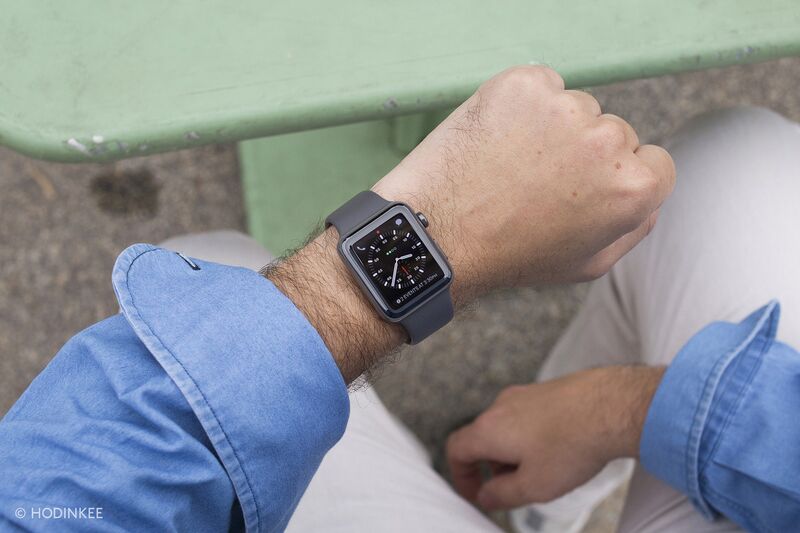 On to the matter at hand, your very first hands-on review of the Apple Watch Series 3 Edition.
First things first, I owned the Series 1 Apple Watch – and I really enjoyed it for about a month, using it mostly on the weekends and when going to the gym. I found the Bluetooth connectivity and processor simply to be too slow to use it regularly. If I turned it off for a few days and then turned it back on, it would take forever to update with all my emails, text messages, and calendar invitations.  Shortly after I got the first Apple Watch, I bought an amazing waterproof Universal Compax and, well, the Apple Watch went into a drawer. When Series 2 came out, my colleague Jack Forster told me I had to give it a shot, saying it was really a whole new experience because of how much faster it was. I tried it, it was faster, I enjoyed it a lot more than Series 1, but still, to the drawer it eventually went. I simply didn't feel that I needed it, and it is certainly the first time I could say that about an Apple product in my life.
After a week with the Series 3, this has changed. At least for now.
Packaging, Fit, and Finish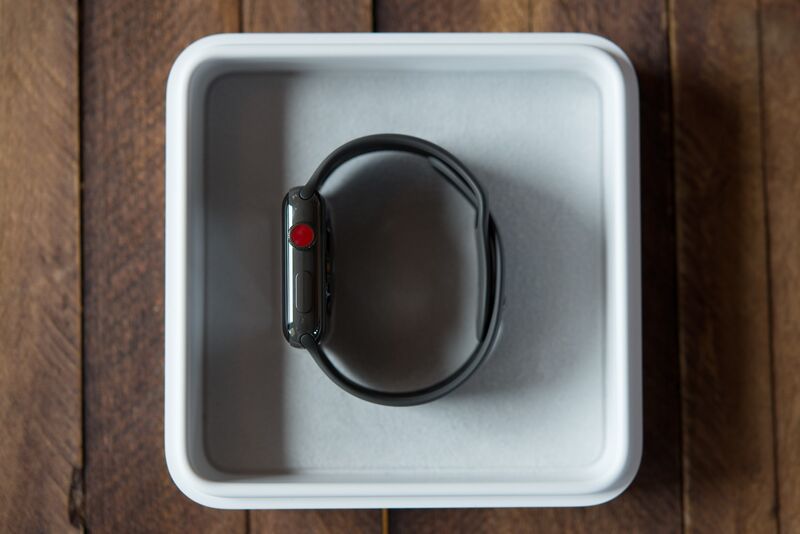 First, let's be clear what we're looking at here. This is the Apple Watch Edition in 42mm – that means this is among the most expensive Apple Watches currently available. All Edition watches, in both sizes and in both colors, come cellular-enabled, though you can purchase a Series 3 without cell capabilities (and you can still purchase a Series 1, if you'd like to). This means the Edition is a luxury product to Apple, and as such, the packaging, fit, and finish of the whole thing is just exemplary.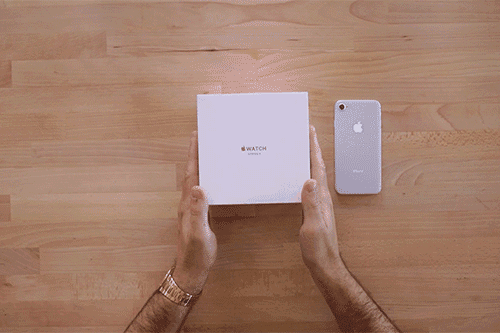 The beautiful plastic and microsuede box in which the Edition comes is simply stunning, and when showing it to our own in-house designer (who holds a degree in industrial design), he noted the incredible tolerances and smooth corners to every piece of the packaging. To him, it gets no better than when Apple does great packaging, and to me, as someone who lives in a world of leather-bound books and the smell of rich mahogany, the clean, minimalist approach to packaging was a welcome change. Have you seen the boxes that come with luxury watches today? They're enormous, they're wasteful, and they're downright silly (shout out to Nomos though—you guys kill it!).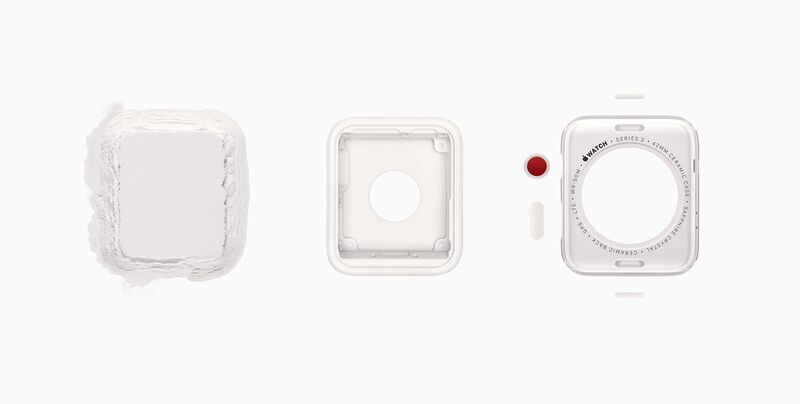 This being the Edition, the entire case of my Apple Watch Series 3 is ceramic. And that's not steel coated in ceramic, it's the real deal. Actually, it's Apple's own in-house ceramic, which uses a powder made of zirconia, yttrium oxide, and alumina. From there, each case is compression molded, then Apple uses 70 diamond-grit CNC machines for over six hours to cut the cases. After that, the ceramic goes through two full hours of polishing to bring it to the sheen that you see here. Again, the quality of the ceramic matches that of any high-end polished ceramic watch I've seen in the market from Switzerland. In fact, Apple has indicated they are using much of the same finishing techniques that one might expect to see in, say, Le Brassus or Le Sentier, and if you look through Apple's "Designed by Apple In California" book, and then tour Audemars Piguet for example, you'll see the very same tools. In thinking about it, the only high-end Swiss watch that is objectively a more impressive use of ceramic is AP's Royal Oak Perpetual Calendar in full ceramic with ceramic bracelet, and that is because of the multiple facets and finishing types seen on the bezel, mid-case, and bracelet. The ceramic AP is one of the hottest watches in the world at the moment, and even at $93,900 it has a wait list a mile long. Though they are very different watches, I would not be shocked if many ceramic AP owners end up buying ceramic Apple watches – they just kind of go together.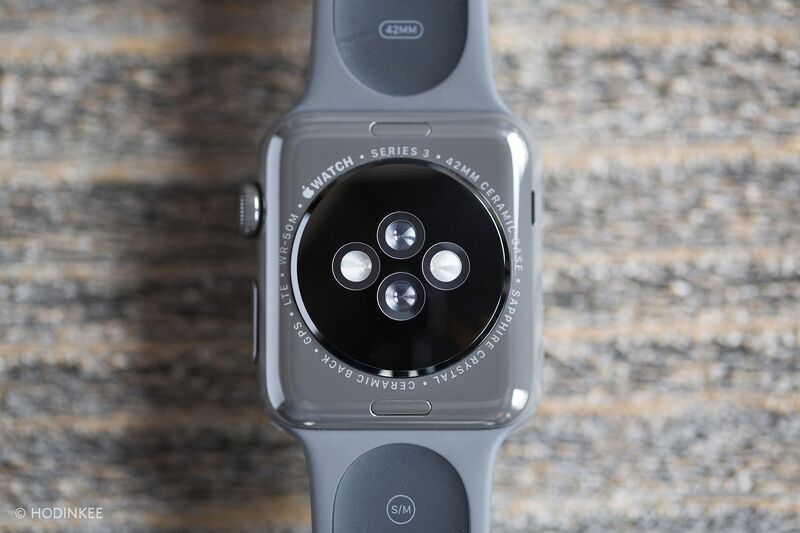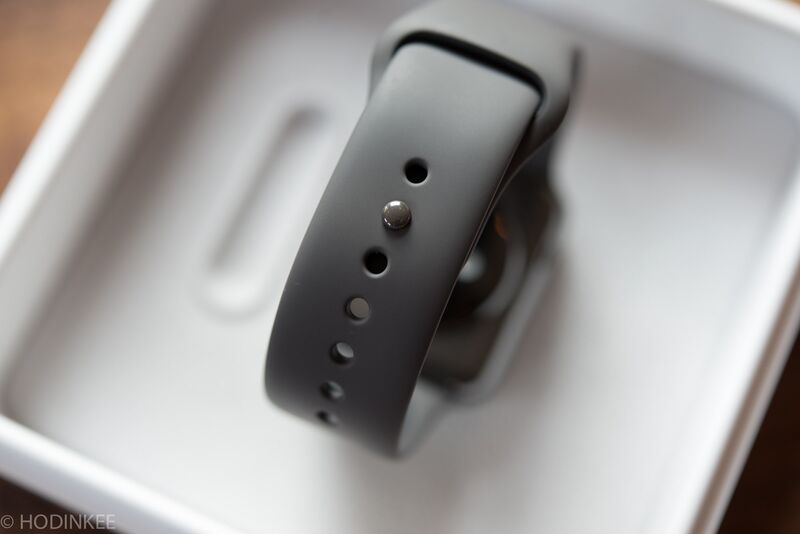 The muted grey of this new Edition is such a wonderful color – I prefer it vastly to the white ceramic that was available in Series 2. Now, that white ceramic is still available in Series 3, but I think white is a very particular look that will appeal to a very particular set of consumers, while this grey will be far more popular with a wider range of people. Oh, and if you hadn't guessed by now, I'm a fan of grey.
The two pieces of the watch that aren't grey are the caseback, which includes the sensors for heart rate and haptic responses, and the large red dot on the end of the otherwise grey digital crown. This red dot signifies to all that this Apple Watch is indeed cellular capable.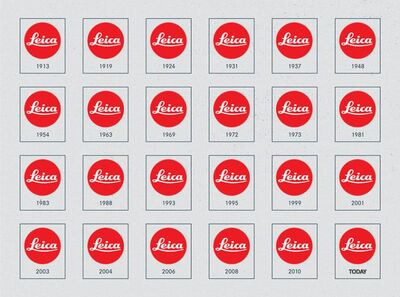 The red dot is somewhat of a curious move by Apple for a few reasons. Visually, it's fairly striking, and to some, including the Hodinkee designer I mentioned above, it's a complete turn-off. He said, "it's a deal-breaker" for me. I wouldn't go that far, but then again, as I told you Friday, I'm color blind and it doesn't jump out that much to me. Still, for a company known for being measured in all that they do, this feels a little extravagant, a little showy, in the most Cupertino kind of way.
And if Apple did want to have some visual cue to let others know you've copped the new hotness with that cellular bizness inside, why make it a red dot, a logo well known and loved by a brand with which many consumers of "luxury digital products" are well acquainted – Leica? Hell, Apple designers Jony Ive and Marc Newson even collaborated on a Leica for the Red Charity Auction in 2013. Again, the red dot isn't a huge deal, but I'd love to get the background on this. Why that and why there?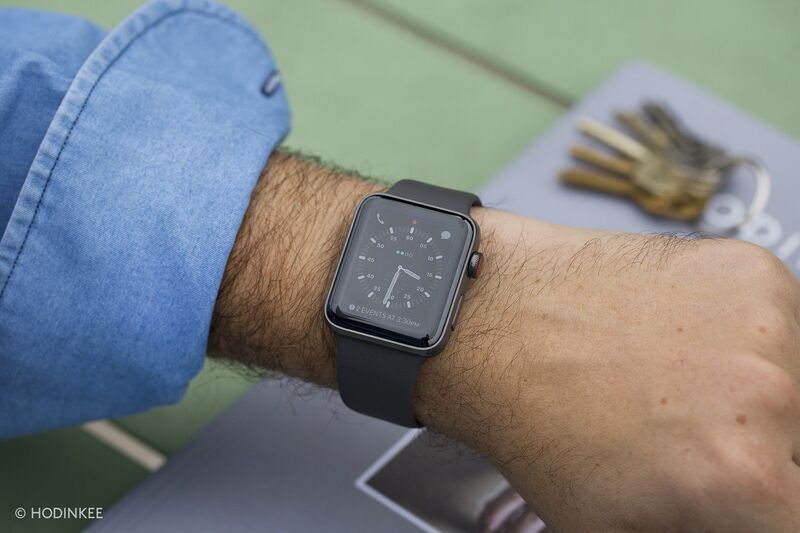 The wrist position, though .2mm thicker than the previous version (we're now at 11.4mm), is just like earlier watches, and excellent. That said, I would be lying if I said I wasn't a little disappointed that we actually went thicker for Series 3 instead of thinner – and I know that it's packed with much more tech, but the heart wants what the hearts wants, and man, I want a super thin Apple Watch. Still, Apple Watch remains a remarkably comfortable tool to wear on the wrist.
Apple Watch Series 3 as a New Part of Your Life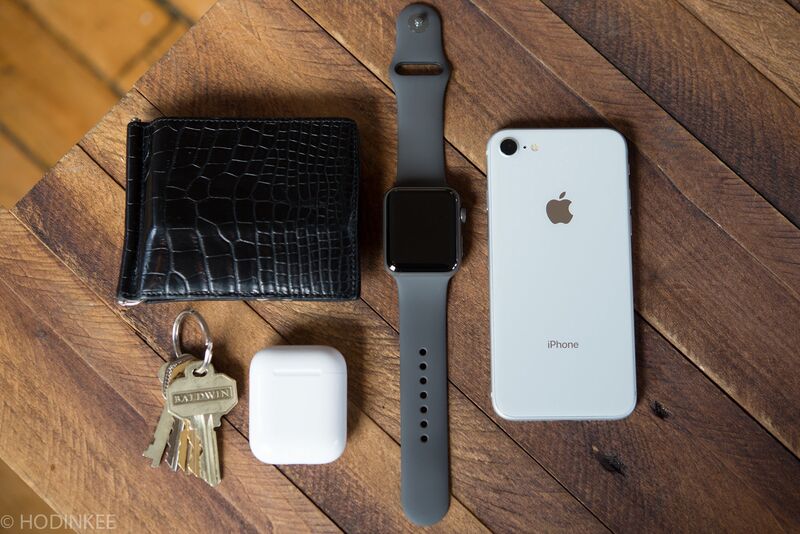 When Apple announced that you no longer needed to keep your phone near your watch I didn't really think it was that big of a deal. The watch and phone go together – one is a peripheral to the other. But as soon as I had to chance to set up the watch and try it out, I realized that Apple Watch Series 3 is a giant, and I do mean giant, step towards making the product what many in Cupertino dreamed it would be and what many in Geneva feared it would be – a truly powerful tool on which millions will become reliant, just like they are on their phones.
So how does it work? Effortlessly. Your watch connects to your phone using the very same number you've likely had for years, and the watch and phone become interchangeable. In fact, one could almost replace the other, and yes I'm talking about the watch replacing your phone. The first time I left my phone on my desk upstairs and went down to the street to make a phone call, I didn't really believe it would work. It did. And well.
And of course, when I placed that first call, my own telephone number showed up, and the call was crystal clear in downtown New York City. I became obsessed, and quickly. The next day, I didn't even bring my phone to work with me.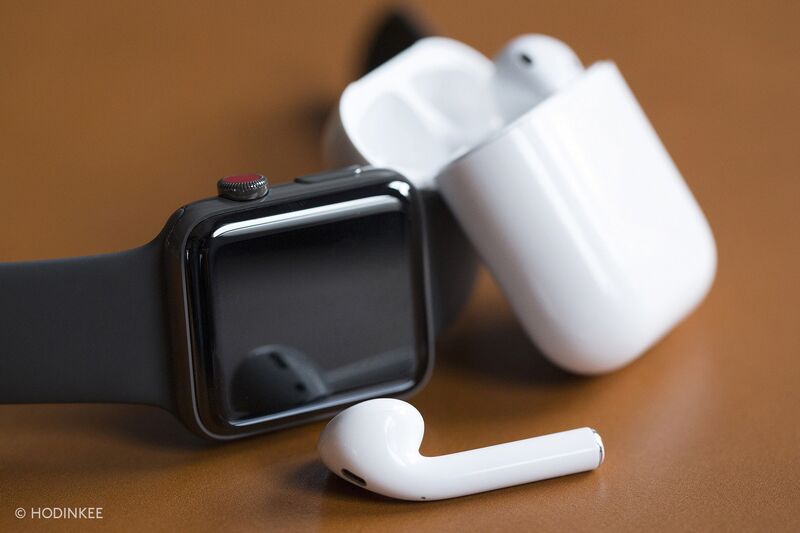 Now, what I haven't mentioned yet is that there is actually a sister product to Apple Watch Series 3 that is all but a must-have: AirPods. Apple's wireless Bluetooth headphones have been with me since December of last year, and while the sound quality is hardly audiophile worthy, they are incredibly convenient. At this point, I couldn't live without them, and I felt that way even before I received this sample Series 3 to try. They are an even bigger part of my life with the Series 3 in the picture.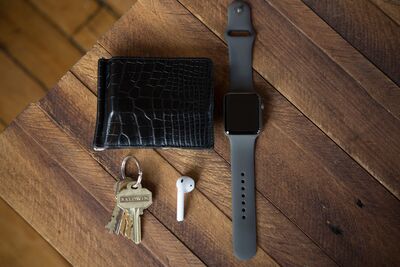 This image above is what I've carried with me the last three days. Not only is there no phone – which, let me tell you, is incredibly liberating – but also I'm now only carrying one AirPod with me at a time. I can make calls, listen to music, and use Siri all from just the single unit, which I throw into my pants pocket when I'm not using it.
I used the term "liberating" above, and I mean it. With Apple Watch 1 and 2, you were essentially given an additional screen that told you what you were already being told on your larger, more powerful, more familiar screen (your phone). I understand why that wouldn't be for all – and frankly in the end, it wasn't for me either. This is different. Completely different. I don't know that I ever would've guessed I would say this about a smartwatch, but Apple Watch Series 3 might make your life better – you'll be less connected with the digital world and more connected with the real world around you.
In the few days I've been using the Series 3 Edition as my only communication device, I've found myself checking Instagram less. Texting less. Dickin' around on the web less. I use the watch to text or make phone calls when I need to – and that's it. My definition of "need" has changed completely – and frankly I don't miss having my phone in my pocket at all.
Is it more cumbersome to respond to emails and texts? Sure, but Siri in the new watchOS 4 is so dialed-in that mistakes seldom happen in dictation, and there is a nice "scribble" function where you can essentially write what you want to say with your finger – it's definitely good enough for quick responses – and, as I've strangely discovered over the last few days, life goes on if emails go unanswered for an hour or two.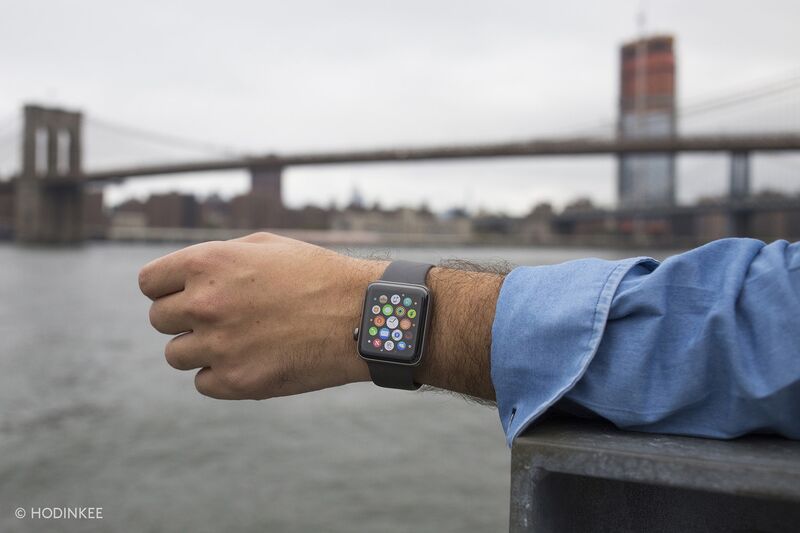 Dropping the phone from your #EDC is far and away the most important impact Series 3 will have on you, but the other benefits of wearing an Apple Watch should be mentioned too. You start to pay attention to how active you are – or in my case, or inactive. It reminds you to exercise, to stand up, to breathe. The new OS monitors your heart-rate constantly now, and compares your resting heart rate, active rate, and recovery rates. Frankly, having this much information about your heart is a little disconcerting, but it's also powerful. Apple even launched the Apple Heart Study in partnership with Stanford, which will use the technology to better identify cardiac irregularities earlier. The potential here is, of course, massive. Oh, and did I mention Apple has been in talks with Aetna to potentially offer the Apple Watch to its 20-million-plus subscribers with either a full or partial subsidy? Let's pull this out a little bit to think about what this could mean.
Apple, Aetna, and What Corporate Wellness Could Mean for Them and for Every One of Their Competitors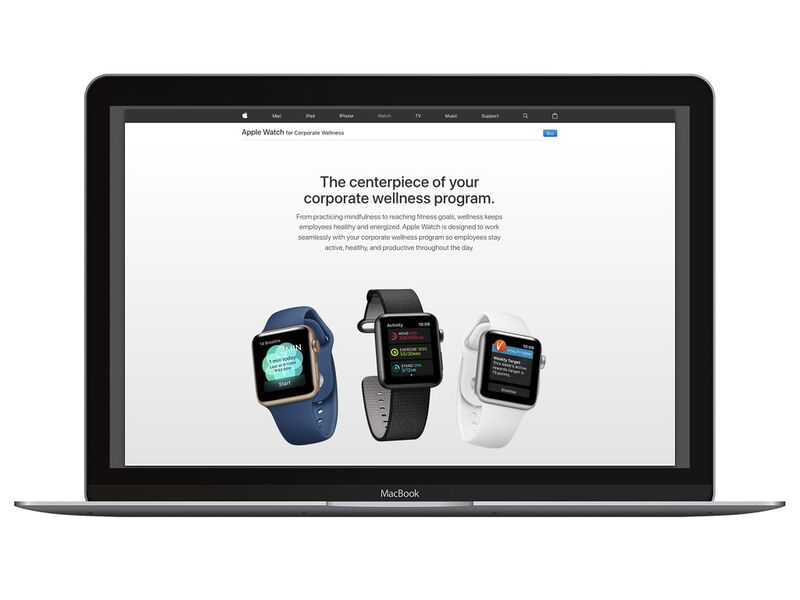 Apple currently has a "Corporate Wellness" page on its website – though I'd never seen it before last night. And the corporate wellness page focuses almost singularly on the Watch. It features quotes from executives from large corporations extolling the benefits Apple Watch has had on the health of its employees. But it is perhaps the first and most visible quote is most interesting. It comes from an executive VP and Chief of HR at Aetna, a $60 billion insurance company that provides healthcare to over 20 million people. Aetna currently provides the Apple Watch to all of its 50,000 employees for free.
In June 2016, Aetna released an announcement that they would be "Transforming Members' Consumer Health Experience Using iPhone, iPad and Apple Watch." Just last month, CNBC reported that Apple and Aetna met againto discuss how Aetna's own employees found using the Apple wellness program. While nothing has been confirmed, logic would tell us Apple and Aetna are on the verge of announcing a comprehensive partnership. If you look back at the keynote from last week, you'll see that more than half of the time spent on the watch was spent discussing health. That emotional video played in the beginning entitled "Dear Apple" gives you a pretty good idea of what's to come. You can watch it below if you missed it.
Apple is doing a pretty good job at making a case for everyone you know to buy this watch with a video like this – and frankly with the health capabilities the new watchOS 4 has. But don't worry, if that wasn't enough, it won't be long before your insurance provider might even subsidize the cost of your Apple Watch, or even give it to you for free if can be proven that it makes you healthier. And to center the conversation back to our primary audience – imagine how long it'll take for the Apple Watch to take the crown away from Casio then, or to leave Rolex permanently in its dust.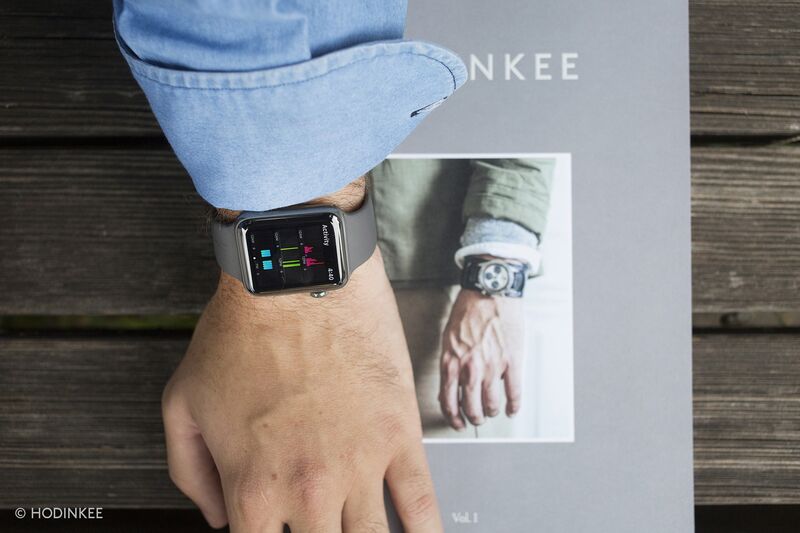 Imagine how many people who have shown little interest in smartwatches will all of a sudden be wearing an Apple Watch. Imagine how many people who are simply indifferent to what goes on his or her wrist – the majority of humanity – will be wearing an Apple Watch because, hell, it could save your life, and if insurance will cover it, why not? Do you think the ability to upgrade to a mechanical chronograph like with TAG Heuer or a Louis Vuitton–stamped charger case will convince a single person to stay away from Apple? Right. You see what I'm getting at here. I just hope Switzerland is prepared – I truly do – because I love mechanical watches and all that they've meant to me and millions of other over the years. But with Apple's developments in health, and now the ability to disconnect from your phone and in turn create an actually healthier lifestyle, the traditional watch industry needs to prepare for a cataclysmic shock.
Apple Watch Series 3 as, You Know, an Actual Watch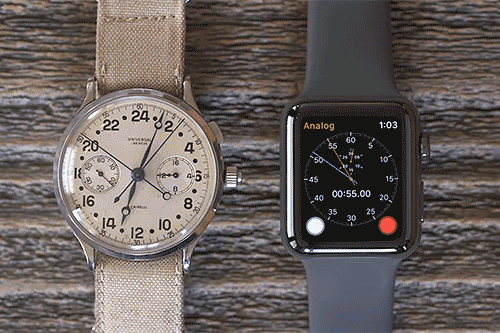 Enough about that though – what's it like to actually wear the Series 3 as a watch? It seems almost silly to talk about its time-telling ability when it can do so much more, but at the end of the day, this is Hodinkee and if we're going to say, "fine, we'll call it a watch," then this has to be considered. Series 3 has dozens of dial types, including the new Explorer dial seen above, and several from the previous versions of the OS that are reminiscent of traditional watch faces. What is fun, though not new, is that the Apple Watch actually pays homage to one of horology's greatest complications (and one of my personal favorites) with its lap-timer. When you select the "analog" face in the stop watch app, you see what looks like a real-deal rattrapante, or split-seconds chronograph.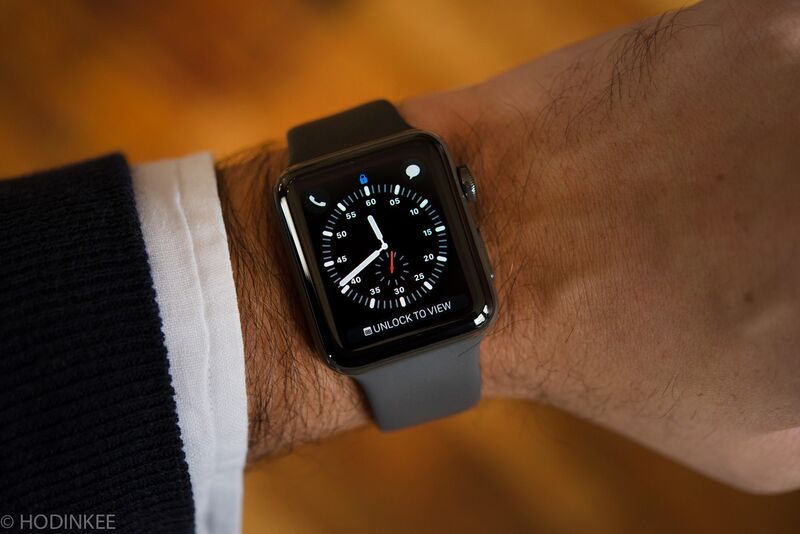 Just as before, the dial goes dark until you lift your wrist to look at it. When configured as above, it mimics a traditional analog watch in a convincing manner. The Edition, in all its high-end ceramic glory, does give the wearer a sense that he or she is wearing something special – but everything is relative. After a few days of wearing the Apple Watch Series 3 Edition, I put my gold Lange 1 back on, and well, it felt like home.
Final Thoughts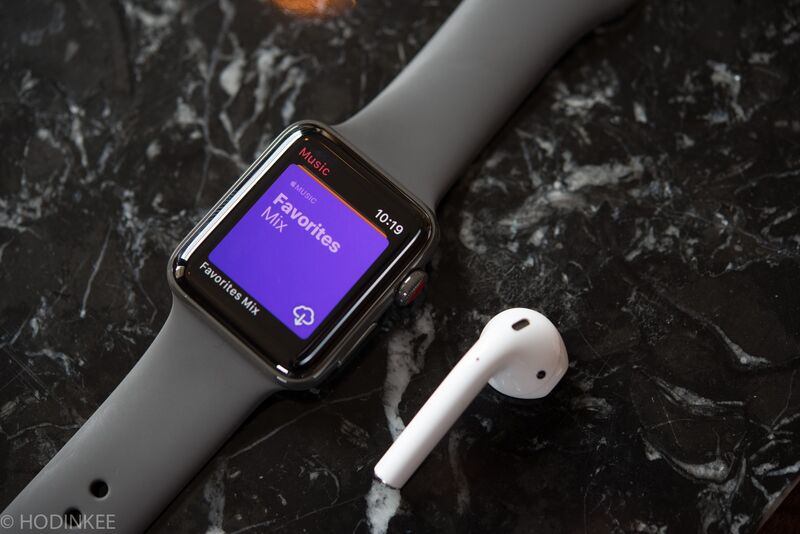 Apple Watch Series 3, Edition or not, is the watch we've been waiting for from Apple. As mentioned, the cellular capabilities alone elevate this product from a niche peripheral to something that could become instrumental to millions of people's daily lives. The setup above, Series 3 with cellular and one AirPod, I expect to become almost indispensable to many, just as it has been for me this last week. The Edition, an admittedly pricey option for an object that will likely become obsolete in 18 months, is silly when viewed that way, but lovely when viewed for what it is – an expertly produced and stunning piece of industrial design that gives fine watchmakers a run for their money. It's so beautiful and so complex to produce that it makes me wonder if this watch is simply a beta test for larger projects with ceramic to come. It must be. Because though Apple is indeed the ultimate luxury brand – and it's becoming more "luxury" each year – I'd be curious to see how big demand for a $1,349 semi-disposable watch really is. That's not to say the Edition doesn't have a place, it definitely does, and frankly it is with people just like me, but I'm talking bigger picture here. It is lovely, and to me far more interesting than a traditional steel Apple Watch – but I recognize the absurdity in it for the average person looking in. It is, of course the same absurdity through which the entire mechanical watch world is viewed daily. That said, sometimes want is a far stronger desire than need and the Edition will find its fans, surely.
Putting the price of this Edition aside, I think this Friday, as the Apple Watch Series 3 begins to deliver all over the world, we are about to begin a new chapter for smartwatches and perhaps for watches in general. Will Swiss watchmaking do as Nokia did with the iPhone and downplay the threat until it's far too late? Or will Swiss watchmaking thrive due to the very reason that it stands for hand-craft, longevity, and multi-generational appeal – the very antithesis of most digital products? The answer is likely neither one nor the other. The watch industry doesn't move as a whole – some resist, some accept. Now the question becomes where each brand will stand as the dust settles on what is very likely a new era for the watch world, all ushered in by the Apple Watch Series 3.
You can read more about Apple Watch Series 3 Edition right here.
BONUS: We Stop Three Random People On The Streets Of Brooklyn To Ask Them About The New Apple Watch Series 3
What do three total strangers think of the new Apple Watch? Well, have a look above.
Video: Will Holloway/Greyson Korhonen
Hodinkee is the preeminent resource for modern and vintage wristwatch enthusiasts. Through in-depth reviews, live reports, and dynamic videos, Hodinkee is bringing watches to a 21st-century audience.