Apple Watch Series 3 a Top Performer in Consumer Reports Testing
CR evaluates step counting, heart rate, and voice calling
The Apple Watch Series 3, unveiled on Sept. 12, arrived with some compelling fitness features, along with an LTE cellular connection in some versions that lets users receive calls and text messages without having to carry a smartphone.
And, after undergoing our standard smartwatch tests—plus a few new ones—the Series 3 has emerged with a Consumer Reports recommendation, ranking among the Samsung Gear S3 Frontier and Gear S3 Classic models near the top of our ratings.
The Apple Watch Series 3 (42mm) Stainless Steel Case with GPS + Cellular earned high marks for step counting and heart-rate tracking. The watch, which starts at $499, also scored well on scratch resistance, with the sapphire crystal glass surface on its face surviving our most extreme test.
We also bought and tested an Apple Watch Series 3 (38mm) Aluminum Case GPS, $329, and an Apple Watch Series 3 (38mm) Aluminum Case GPS + Cellular, $399. These watches earned favorable ratings, too, but finish slightly lower in our rankings, mainly because their Ion-X glass wasn't quite as scratch-resistant.
A number of users and reviewers have reported that cellular versions of the watch dropped calls frequently. Our testers ran the Series 3 through several trials designed to evaluate the cellular connection. We weren't able to reproduce the problems.
No Dropped Calls
In addition to making calls and receiving text messages, the Series 3's new cellular connection allows runners and others who enjoy living life on the go to field emails and stream music well beyond the bounds of WiFi—much like a smartphone.
But some early reviewers complained about losing the cellular connection mid-call when they ventured too far from a smartphone or passed by "unauthenticated" WiFi hotspots.
Test Results: Apple Watch Series 3
Apple Watch Series 3 Final Test Results
To evaluate those reports, one of our testers placed a call on the watch using Verizon's network and walked about 700 feet away from his phone, down a ramp and into the CR cafeteria, then returned to where he started. On the way, he passed through a number of WiFi networks set up in the building. The call did not drop.
Next, we entered a lab with a WiFi network that the watch was connected to. We turned off the WiFi, made a call (still on Verizon) and then restarted the WiFi network to see what would happen. The call did not drop.
We also ran a test in which we left the lab's router on but disconnected it from the internet, creating a WiFi connection with no internet access. In another test, we exposed the phone mid-call to a WiFi network that did not require a password.
"We tried to make the problem happen, using the descriptions we had," says Maria Rerecich, director of electronics testing at Consumer Reports. "We were not able to duplicate it."
But, she adds, that doesn't definitely prove that consumers won't experience problems with dropped calls. "I would never rule it out," she says.
A Little Hot on the Wrist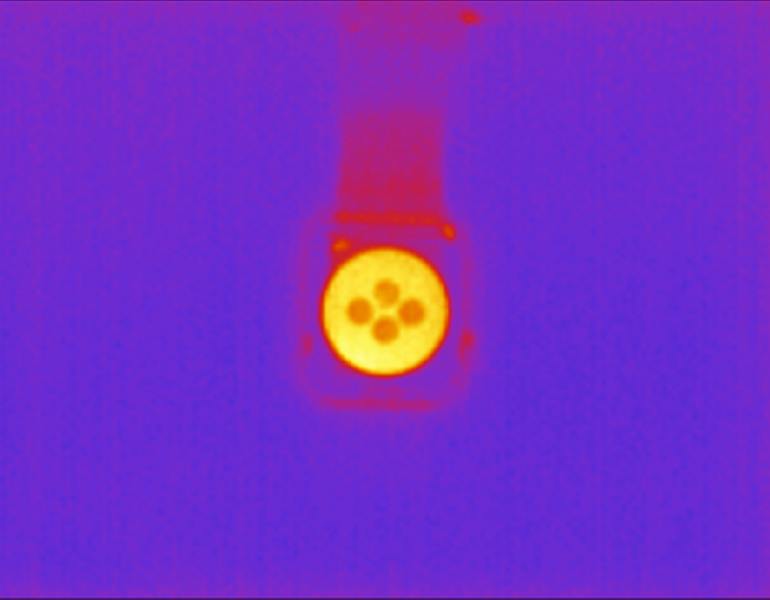 We also performed two experiments to see how much the watch heats up during calls—another concern raised by some reviewers.
In one trial, we used a heat-sensing camera to observe the hot spots on the watch. In the other, we used a heat sensor on the back of the watch to measure temperature changes.
During a 20-minute call, the watch's temperature rose from about 83° F to a peak of 95° F. (While internal body temperature generally hovers around 98.6° F, typical skin temperatures are a few degrees cooler.)
"There's a definite and significant temperature increase," says Rerecich. "But it's not excessive."
She compared it to the heat you feel against your cheek when using a smartphone. It may feel uncomfortable, but it doesn't burn you.
Accurate and Tough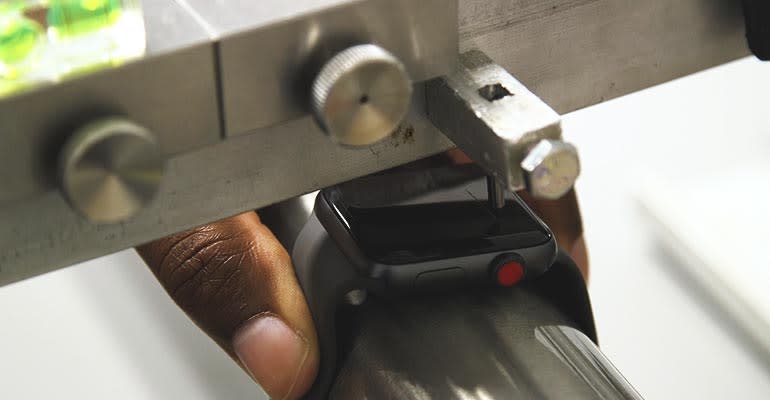 In addition to the special procedures we devised to look into cellular and heat issues, we put the Series 3 watch through the in-depth, standard testing we use with all smartwatches evaluated at Consumer Reports.
The Series 3 models received favorable reviews from our testers for ease of use, as did its predecessor, the Series 2.
However, the new watches were much easier to read in bright light.
And, just like the Series 2 watches, the new watches received high marks for heart-rate monitor accuracy and step counting, features that have become increasingly important as the line between smartwatches and fitness trackers blurs.
The testers also evaluated the Series 3 watches on measures of toughness.
First, we confirmed that they meet Apple's water-resistance promises, able to survive a simulated plunge of about 164 feet (50 meters, to be precise) in our pressured dunk tank.
During our scratch test, the stainless steel 42mm model distinguished itself from its siblings. Its sapphire crystal glass was more scratch-resistant than the Ion-X strengthened glass used in the aluminum versions of the watch.
We ran picks calibrated to the 10-point Mohs Hardness Scale across the watch faces: The Ion-X watch faces were scratched when we applied a level 8 pick, similar in hardness to a masonry drill bit. The sapphire crystal withstood both that and the even harder level 9 pick.
Our labs are continuing to evaluate the new watches, and in particular we are exploring how much the cellular connection will affect battery life. We'll let you know when those results are in.