Wearable, AI-assisted UltiGesture May Curb Gait Freezing
by Yedida Y Bogachkov PhD | November 17, 2021
SHARE THIS ARTICLE:
SHARE ARTICLE VIA EMAILCOPY ARTICLE LINK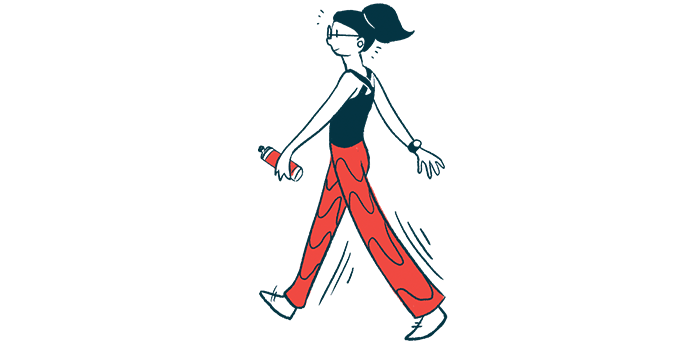 An interdisciplinary research team from William and Mary University and Virginia Commonwealth University (VCU) are working on artificial intelligence programming to help develop a wearable device to treat freezing of gait (FoG), the temporary inability to move while walking, which is a motor symptom of Parkinson's disease.
"Freezing of Gait can be very isolating socially. It's very burdensome, or at least taxing, on family members that have to help their loved ones. It affects their psyche through the fear of falling," Ingrid Pretzer-Aboff, PhD, associate professor and senior nurse researcher at the VCU School of Nursing, said in a press release.
The program being developed focuses on combining the use of software (computer programming) and hardware (wearable devices) to administer targeted vibrations in reaction to certain Parkinson's symptoms, such as tremors or gait freezing.
"There are very few choices out there to help patients like this. We're hoping that using vibration in this new way will show better results and give people some hope, a little more autonomy, freedom and a better quality of life," Pretzer-Aboff added.
Freezing of gait episodes can be triggered by environmental and psychological factors, such as beginning to walk, walking through tight spaces, changing direction while walking, approaching a visual target, or doing something else while walking. Time-sensitive situations, such as entering an elevator before the doors close, also can trigger an episode.RECOMMENDED READING
October 14, 2021 Columnsby Samantha Felder'Movin' It' With Hip Hop Dance Classes for People With Parkinson's
"Each individual with Parkinson's disease is unique with regard to how sensitive they are to these various triggers, underscoring the need for customized therapeutic approaches," the researchers wrote in their grant proposal to the National Institutes for Health, which provided funding.
"As such, increased understanding of modifiable factors underlying FoG and increased understanding of individual nuances in experiences of FoG is warranted," they added.
One of the researchers helped to do just that. From August through December 2020, Ken Koltermann, a PhD candidate associated with the project, walked on a gait-monitoring mat that is used in clinics, the Protokinetics Zeno Walkway. He then compared the data obtained from the mat to data collected while using a UltiGesture band, a piece of hardware containing a gyroscope and accelerometer developed by Gang Zhou, PhD, a professor of computer science at William and Mary University.
The UltiGesture band allows for researchers to measure both acceleration of the individual wearing the band via its accelerometer, as well as measuring the speed of rotation of the individual via its gyroscope. These data then can be transmitted via Bluetooth to a smartphone. Further programming, including artificial intelligence, are then used by an app on the phone to detect both the baseline gait (or the way the wearer walks), as well as any abnormalities in the person's gait.
The data collected by Koltermann allowed researchers to move forward and develop machine learning software classifying how he walked. Using the Protokinetics Zeno Walkway mat allowed the researchers to validate the UltiGesture band and its accompanying software.
"If we can show our device is as accurate as the mat, that could lead to a revolution in healthcare accessibility — and not just for Parkinson's," Koltermann said.
"This will make gait analysis so much more accessible, especially for rural healthcare systems and low-income areas," he added, given the difference in price between the band versus the mat — $10 versus $50,000.
The next step is pairing the UltiGesture system with the VibeForward device, a small piece of hardware developed by Resonate Forward that delivers localized vibrations to the ankle and foot to prompt movement in those experiencing trouble with walking or stabilization.
Using the UltiGesture system with VibeForward, the device eventually will be able to sense the slightest freezing of gait event in an individual's walk, triggering a vibration at the ankle and foot level, allowing the wearer to stay in motion.
"This system will be able to differentiate between intentional stopping and the involuntary stopping from Freezing of Gait, and then it will be able to provide instant vibration treatment," Zhou said.
Another element of the research, still in its early stages, is a plan to integrate environmental stimuli in the data, allowing for artificial intelligence to sense possible triggers for freezing of gait events, including elevators and doorways.
"It's really about providing Parkinson's patients a new level of freedom to navigate the world safely. … Giving patients that element of freedom, that's a motivating factor here," Zhou said.Print Friendly
About the Author
Yedida Y Bogachkov PhD Yedida Y. Bogachkov is a science writer for BioNews. She holds a PhD in cellular and molecular pharmacology from the University of Illinois at Chicago. Prior to joining BioNews, she was conducting scientific research analyzing cancer genomics. She's a Chicago native and hasn't moved out of her hometown. Yes, she actually likes snow and enjoys having all four seasons. Yedida likes being out in nature, and in her free time, she can be found outside enjoying the fresh air or baking (inside). She is, unsuccessfully, trying to persuade the rest of her family to enjoy hiking. Yedida is excited to bring her passion for science and her desire to help people to BioNews.